HearWatch – The Occupational Hearing Conservation Program of Great Lakes Audiology
Noise exposure is now the number one cause of hearing loss in the United States.  Noise induced hearing loss is permanent, but can often be prevented.  Employers should be aware of this risk so that their employees may maintain good hearing health throughout their life.  In addition, the Occupational Safety and Health Administration (OSHA) requires businesses to take measures for the protection of employee hearing when certain exposure levels are present.  Businesses found in non-compliance are subject to penalty/fines.
HearWatch is Great Lakes Audiology's hearing conservation program which was designed to conveniently and affordably monitor and protect the hearing health of employees who may be at risk of noise induced hearing damage while keeping businesses in compliance with OSHA regulations.
Overview of our services: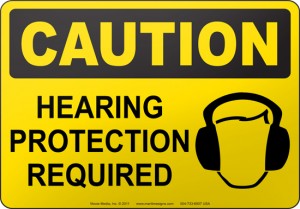 CAOHC certified technicians
On-site hearing testing minimizes production downtime; Flexibility to test any shift
4-employee simultaneous testing for up to 12 employees per hour
Immediate individual results provided
Doctor of Audiology supervision and review; consultations available to determine non-work related causes of hearing loss
Plant noise measurement survey (noise "map", dosimetry)
Comprehensive company reports (employee results, recommendations, required documentation)
Hearing protection, training and educational sessions available
Special pricing for industries needing service for 40 or more employees
For a current fee schedule or for more information, please call or email (419-327-2273 or hearwatch@glaudiology.com).
OSHA Hearing Conservation Program: Basic Requirements
85 dB Action Level — required to enroll exposed employees in hearing conservation program at or above 85 dB(A)
Mandatory hearing protection at 90 dB(A) or higher
Baseline and annual hearing testing provided by employer at no charge to employee
Significant changes in hearing (standard threshold shifts) may need to be recorded on OSHA 300 Log for work injury (specific criteria apply)
Annual employee hearing protection education & training is required
Records must be retained throughout duration of employment
Please refer to the following link for further information:
OSHA Occupational Noise Exposure – Standard 1910.95
–
"Great Lakes has done a great job in helping us with our audiometric needs.
Both DeAnne and Dr. Keifer have been great partners with our company in our
quest to ensure everyone is doing their part to protect their hearing at
our facility, as well as outside of work in their daily lives."
– Todd, Safety Leader at Calphalon Co. in Perrysburg, OH